CEDAW – Convention on the Elimination of All Forms of Discrimination against Women, 66 Session
OII Germany is one of the non-governmental organizations from Germany that met with the Committee on the Elimination of Discrimination against Women (CEDAW) to raise concerns on the ongoing inhuman treatment and harmful medical practices intersex people face in Germany.
One of the key points of the session report by OII Germany is based on a recent German study that shows that, in contrast to claims by medical practitioners, the relative frequency of feminising genital surgeries in childhood did not drop between 2005 and 2014. Despite these alarming results the German government so far does not acknowledge the need for a comprehensive ban of non-life saving, genital surgeries and other harmful medical practices on intersex infants and children.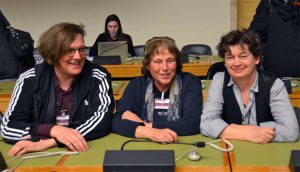 From the UN-Press Release 20. February 2017: "A representative of the Non-governmental Organization Coalition on behalf of StopIGM.org and OII Germany said that all forms of intersex genital mutilation persisted in Germany, supported by public funds. Several human rights treaty bodies considered intersex genital mutilation in Germany as a harmful treatment and urged Germany to prohibit the practice in the criminal law, ensure access to justice to survivors, and lift the statute of limitations."
Here the link to the joint statement of StopIGM.org and OII Germany